Our Curriculum
We define 'curriculum' as the totality of a child's experience at Baildon Glen Primary School, ensuring they are secondary school ready when they leave us at the end of Year 6, equipped with the right knowledge and the right skills for the next stage of their educational journey. Our children are at the heart of our curriculum and is underpinned by our Six Ways to Grow: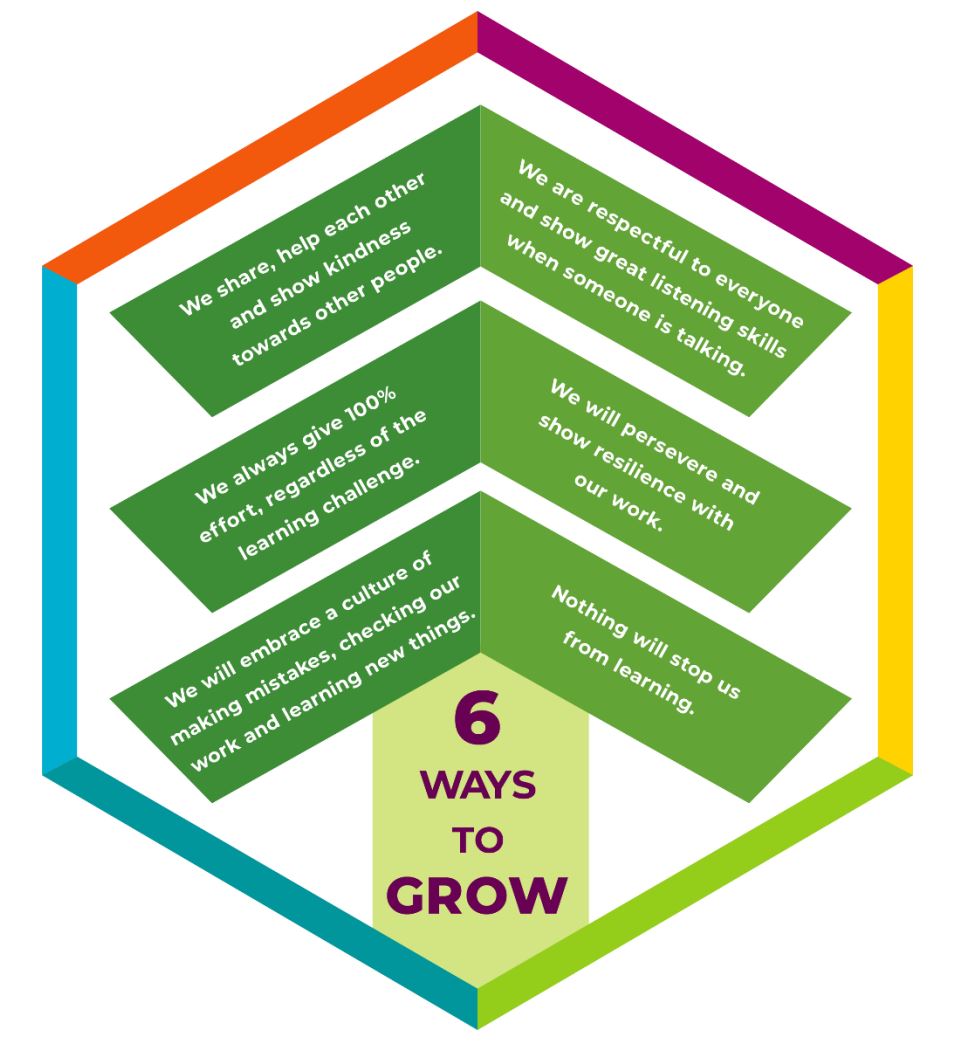 At Baildon Glen, we are committed to delivering a curriculum that provides our children with knowledge and skills across all primary subjects, with the aim of ensuring pupils are ready for the next stage of their learning. We do this by ensuring that core learning is embedded throughout our curriculum, providing pupils with opportunities to practise and refine the skills they have been taught across a range of contexts.
Curriculum Intent
At Baildon Glen, we value the uniqueness of each individual child, recognising and nurturing their potential for learning. Our aim, through our tailor-made curriculum, is to enable each child to fully participate in current and future society as a responsible, self-confident citizen. We use our local community, and the surrounding areas to enhance and make learning purposeful. We believe that our curriculum offers a balance between understanding and using knowledge as well as developing and applying skills, leading to better understanding and progression for the pupils.
Our curriculum has been designed with the following principles:
it is personalised around what our children need, maximising our locality;
it is outward-facing, setting learning in local, national and global contexts wherever possible;
it aims to celebrate diversity to emphasises unity and it is rooted in authenticity and context so that learning is relevant, purposeful and sequenced, because we want children to know certain things at certain points of their life.
Core Learning
Core learning is integral to the expectation of excellence that runs throughout our curriculum, ensuring that we demonstrate high standards to the children, and that they have high expectations of themselves. There is an emphasis on reading and writing throughout our curriculum, with maths being taught discretely, making cross-curricular links where appropriate. We ensure the effectiveness and demonstrate impact of our core learning through rigorous assessment in our cyclical benchmarking model. 'Hook' texts are used to engage children in their learning across the curriculum, giving all children access to high quality texts to promote a love of reading.
Life Skills
Children at Baildon Glen leave school with the skills to support them with lifelong learning to ensure they can access wider opportunities in their future lives. Our children will be challenged, in an environment where they feel safe, and where any mistakes are viewed as part of their learning journey to build a determination to succeed. Our children are taught how to work in teams, where each team member is valued and has a role to play in order to achieve a collective goal. This enables them to develop excellent communication skills and provides our children with opportunities to explain and discuss their ideas, allowing them to become reflective and considerate learners. This is achieved by providing a curriculum that motivates and inspires children, so that they have a thirst for learning, and an intrinsic desire to achieve their goals. Character development, independence, collaboration and building resilience are key elements that our curriculum offers and combining this with developing the whole child in a structured approach to teaching well-being and mental health, we believe we are preparing our children for the wider world.
Enrichment
Our curriculum encompasses enrichment with the expectation that our children will work within, and be, active members of the community. This is embraced and encouraged by members of our governing body, local businesses and parents, who work with our staff to plan community projects and topical days. In doing this, we are creating future global citizens, who will be equipped for the challenges and opportunities of life, in a fast-changing and interdependent world.